Another somewhat belated year-end list: Here are my favorite movies of 2021.

1.
Memoria
Director Apichatpong Weerasethakul's masterpiece may seem at first like a puzzle film—one of those movies with hidden meanings that can be deciphered if you think about them hard enough. And maybe, to some extent, that's what it is. After pondering the puzzle, I do have some ideas about what might be happening at some of Memoria's mysterious junctures. But like the best surrealist cinema, ranging from Buñuel to Lynch, Weerasethakul's films defy any simple explanation. There's a power in the sheer strangeness. This was his first feature film made outside of his native Thailand, and the first one with a star who's known to Western audiences (the magnetic Tilda Swinton). But it is just as haunting as Weerasethakul's earlier works. The enigmatic, ominous noises in Memoria made me jump in my seat, just as the movie itself felt like an existential jolt. When I saw it at the 2021 Chicago International Film Festival, I immediately wanted to see it again. I managed to see it another two times when it returned to Chicago theaters in the following months, and throughout those viewings, Memoria continued to hold its spell on me.

2.
The Beatles: Get Back
Although this documentary appeared on Disney+ instead of getting a proper theatrical release, there's no question in my mind that it's a film worthy of inclusion on a list like this. It's simply one of the best films ever made about a group of musicians engaged in the collaborative process of writing, performing and recording songs. The documentary itself is a curious kind of collaboration across time—Michael Lindsay-Hogg deserves much of the credit for filming these scenes for his Let It Be movie, but it was Peter Jackson who re-examined the footage to create a more complete story about what happened during those sessions. In the process, he made a fascinating meta documentary about the making of the original documentary. But more important, he gave us a startling look at how the Beatles made their remarkable music.
3.
Petite Maman
French director Céline Sciamma followed up her fabulous 2019 film Portrait of a Lady on Fire with this perfect little fairy tale about a young girl's accidental time travels. It's elegant, entrancing, and emotional.
4.
Roy's World: Barry Gifford's Chicago
This instantly became one of my favorite movies about Chicago. Director Rob Christopher has fashioned an interesting hybrid of cinematic forms: It's partly a documentary about author Barry Gifford, but it also weaves in adaptations of his fictional short stories about a boy named Roy, inspired by his Gifford's childhood in Chicago in the 1950s. Roy's World brings that era to life with artfully assembled montages of archival film, a lively jazz score by Jason Adasiewicz, and the voices of Willem Dafoe, Matt Dillon, and Lili Taylor reading Gifford's stories, accompanied by animation. It all comes together in a heartfelt collage.
5.
The Power of the Dog
Jane Campion's drama—an almost Hitchcockian western—kept me riveted. I have to admit that the first time I saw it (at the Chicago International Film Festival), I wasn't entirely sure what happened in the final moments. Once I'd figured that out and rewatched the film, knowing what was coming reshaped my perceptions about the characters, and I found it even more gripping.
6.
Licorice Pizza
So many vivid scenes from Paul Thomas Anderson's reminiscence about coming of age in 1970s L.A. have stuck in my memory. Most of all, Alana Haim's performance was unstoppable. (It's incredible that she didn't even get nominated for an Oscar.)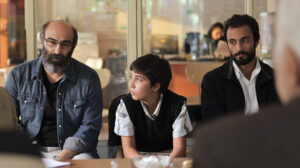 7.
A Hero
I considered taking A Hero off my list because of the controversy surrounding director Asghar Farhadi. As The New Yorker detailed, he is accused of taking this film's story from a documentary made by one of his students, Azadeh Masihzadeh, without giving her credit. I found her allegations in this article credible—a real-life morality tale that echoes Farhadi's movies. In spite of all that, I feel it would be dishonest to dismiss this film's artistic merits, or to deny how much it moved and engaged me when I saw it. It's another compelling, gut-wrenching drama from a director with a very strong track record, which is tainted now by an apparent pattern of failing to credit his collaborators and sources.
8.
The French Dispatch
The first time I saw it, I was disappointed. It felt like Wes Anderson had tried to cram just too much of his trademark Wes Anderson quirkiness into this anthology of linked stories. But I gave The French Dispatch another chance, and the characters really grew on me. I also gained a deeper appreciation of the film's complex structure—the stories being told within stories, all within an homage to the art of storytelling.
9.
The Velvet Underground
A kaleidoscopic portrait of the legendary and groundbreaking rock band, Todd Haynes's documentary masterfully blends music, interviews, and archival film—notably Andy Warhol's screen tests, in which the faces of Lou Reed and his bandmates fill the screen as they silently pose. A narrative thread runs through the film, telling the story of the Velvet Underground, but it feels more like an audiovisual collage—an experience echoing the band's legendary live multimedia events, known as the Exploding Plastic Inevitable.
10.
Mayday
As a surrealist adventure, writer-director Karen Cinorre's movie reminded me of films by Jean Cocteau, Luis Buñuel, Guy Maddin and Yorgos Lanthimos—but this is also very much a woman's story, made by a female auteur and starring women. At times, it has an anarchic feminist spirit akin to Věra Chytilová's 1966 Czechoslovak film Daisies. It's also a film about war and violence. And there's a quirky dance sequence in
Runners-up, in alphabetical order:
About Endlessness, Affairs of the Art, Algren, Annette, Antlers, Attica, Bergman Island, Bestia, Candyman, Chess of the Wind, Compartment No. 6, Drive My Car, Dune, Faya Dayi, Flee, For the Left Hand, The Good Boss, The Green Knight, In Front of Your Face, It's a Sin, Jockey, Judas and the Black Messiah, The Lost Daughter, Muhammad Ali, Nightmare Alley, One Second, Parallel Mothers, Passing, Pretend It's a City, Red Rocket, Romeo & Juliet, The Souvenir: Part II, Summer of Soul, This Is Not a Burial, It's a Resurrection, The Tragedy of Macbeth, The Truffle Hunters, The Underground Railroad, The Velvet Queen, West Side Story, Wheel of Fortune and Fantasy, The Worst Person in the World