Better late than never? It's the end of 2021, and everyone is ranking their choices for the year's best films. But I never got around to doing a list for 2020. So here it is. Finally.
I procrastinated because I was waiting to see some of the major 2020 movies that weren't available yet when the year ended. This is something that happens every year. But during this strange pandemic era, the question about what truly qualified as a "2020 movie" was especially confounding.
After the new year began, months went by before I finally got a chance to see Nomadland. And then, around the time of the Oscar ceremonies, I was reluctant to step inside a theater or pay $20 to stream Minari or The Father. After a while, I started to think: Should those movies even be considered 2020 releases? Don't they really belong on a 2021 list, since that's when they opened in theaters or became available on streaming platforms?
But in the end, I went along with the consensus and considered them as options for this 2020 list. I also included some titles that other people consider TV shows rather than movies. What matters is whether it's good work of filmmaking—a moving picture of high merit.
2020 was a very strange time for watching movies, with theaters closed for much of the year. While I spent my time watching older movies at home, it seemed like I'd end up with barely any 2020 films to even consider for a year-end list. But in the last months of 2020 and early months of 2021, I caught up on a lot of newer films via streaming. It turned out to be a year filled with great films.
1.
Small Axe
I choose to think of director Steve McQueen's anthology of five films as one work of cinema. And despite the fact that it was on the BBC and then on the Amazon Prime streaming service in the U.S. without a proper theatrical release (beyond film festival screenings), it certainly feels like a movie (or movies).
In terms of the format—a package of feature-length films that are thematically related, without any plot or characters connecting them—Small Axe resembles Krzysztof Kieślowski's 1998 masterpiece Dekalog, which was a miniseries on Polish television before screening at film festivals outside Poland and in limited runs at arthouses. Film critics treated Dekalog as a motion picture, and Small Axe deserves the same consideration and respect.
If I had to rank the individual parts of Small Axe as separate films, three of them (Lovers Rock, Mangrove, and Red, White and Blue) would rank in my top 10 or close to it. The other parts (Alex Wheatle and Education) would rank somewhere in the runners-up below the top 10. When this series made its U.S. debut on Amazon Prime, an episode was released each week, and I watched them as they came out. Each of them was an engrossing viewing experience. Then I rewatched the whole five-part series in one concentrated period of time (over two days). Collectively, they were even more powerful, a cumulative experience that grows deeper with each part.
Small Axe is a richly detailed group portrait of Afro-Caribbean immigrants in England. For the most part, the focus is on this community's struggles against racism and prejudice. But it's notable that the most highly praised part of Small Axe is the most celebratory: Lovers Rock, which immerses viewers in the joyful music and dancing of a party. There are so many great characters and acting performances throughout Small Axe, and McQueen continues to make cinema with compelling images and sound in a style that's all his own.
2.
World of Tomorrow Episode Three: The Absent Destinations of David Prime
Here is another movie that might not match the usual criteria for a top 10 list: an animated short film. But I've already made the unconventional decision of naming Don Hertzfeldt's 2015 animated short World of Tomorrow as my favorite movie of that year. And I wasn't alone. In 2020, IndieWire ranked it as the 10th-best science fiction film of the 21st century so far.
Somehow, I'd missed the 2017 sequel, The Burden of Other People's Thoughts. But when this third film came out in 2020, I caught up with both sequels. In fact, I watched the entire series three times over the course of a few days when I rented it on Vimeo.
Like the earlier movies in the series, The Absent Destinations of David Prime is brilliantly written and beautifully animated. The characters are very simply drawn, almost like stick figures, but like many classic comic strips and animations, Hertzfeldt's cartoons demonstrate just how much humor and pathos can be conveyed with a seemingly rudimentary line or squiggle. But as Hertzfeldt explores computer animation in this series, he has developed a fascinating and lovely visual grammar, placing characters that look like they were drawn with pencil inside colorful and often abstract backgrounds. With this third episode, Hertzfeldt delved even deeper into the possibilities of computer imagery and added (simulated) camera movement to his vocabulary.
The first two episodes were grounded in delightful recordings of Hertzfeldt's young niece, Winona Mae, whose extemporaneous real-life utterances shaped the plot's direction. Her words became the voice of Emily Prime, who is visited by a time-traveling future clone of herself—voiced with prim officiousness by Julia Pott. It's both hilarious and heartbreaking to watch the little girl's endearing reactions to the grim tidings delivered by her future "self."
Without losing that bittersweet humor, this third episode shifts the focus to a male character, digging deeper into brain-twisting layers of plotting about cloning, memory, and time travel. And with software warnings and pop-up ads invading the screen, it's a smart satire of living in a world dominated by computers.
Clocking in at 34 minutes, The Absent Destinations of David Prime might even have qualified as a feature film under the rules that the Academy Awards used to follow in the mid-20th century, when anything longer than 3,000 feet (approximately 34 minutes) was considered a feature. Today, the Academy says a movie must be at least 40 minutes long to qualify—though it's hard to imagine a 40-minute movie ever winning an Oscar for best picture. But great works of cinematic art don't always fit within the parameters dictated by the movie business.
One way to think about the World of Tomorrow series is to view it as a feature film that's still in progress, with a total of 72 minutes released to the world thus far. Hertzfeldt made his previous masterpiece, It's Such a Beautiful Day, in three chapters over six years using analog equipment. Hertzfeldt plans to continue this story with more installments: "Don't be surprised to someday be watching a "World of Tomorrow Episode Nine," he writes. Even with computers, animation is a labor-intensive process for an independent director like Hertzfeldt, so we have to wait patiently while he does the painstaking work on each part. In 2021, Hertzfeldt's Bitter Films released a Blu-ray of World of Tomorrow: The First Three Parts.
Wherever Hertzfeldt ends up going with further sequels, the World of Tomorrow series—and this latest part—are astounding works of art.
3.
First Cow
This film doesn't fit neatly within the usual parameters of the Western genre, but it does present a fresh take on what life was like on the frontier. As always, the superb director Kelly Reichardt creates characters that feel utterly real. On one level, this is a charming and laid-back buddy film, marked by moments of humor. But a threat of violence is always present. Here, the New World is seen as a place where people of different cultures can come together, living and working in harmony—or where people might kill the ones they see as different.
4.
Gunda
Farm animals are the stars of director Viktor Kossakovsky's black-and-white documentary, which captures the everyday lives of pigs, cows, and chickens, with barely any presence of human beings noticeable on the screen. It's astonishing how closely the camera takes us into the lives of these animals—with a particular focus on the mother sow named Gunda. The images and sounds are breathtaking and engrossing.
5.
Sound of Metal
Director Darius Marder's drama is riveting from beginning to end—and noteworthy especially for its use of sound and silence. Paul Raci rightfully won acclaim for his performance in a supporting role, and Riz Ahmed is terrific in his star turn here.
6.
Collective
Alexander Nanau's gripping Romanian documentary shows how political corruption can kill innocent people—and how hard it is to root out such corruption.
7.
I'm Thinking of Ending Things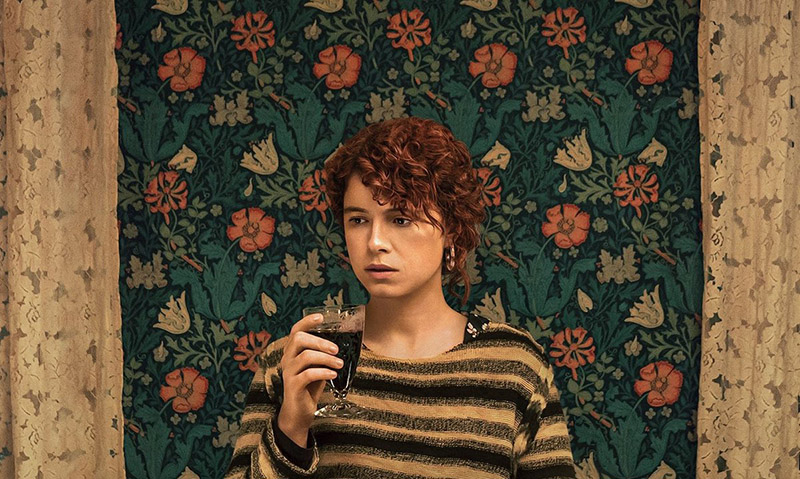 As always, Charlie Kaufman burrows deep into self-reflective meta fiction. The first time I watched this, I wasn't sure what to make of it, but the puzzle persuaded me to read the novel it's based on (by Iain Reed) and then to rewatch Kaufman's adaptation. The deeper I got, the more audacious and daring the film became.
8.
Nomadland
It was heartening to see a film like this—so understated and naturalistic—winning the Oscar for best picture. My appreciation of director Chloe Zhao's movie grew on a second viewing recently. Frances McDormand has such a compelling presence on the screen; it feels like she really is this character named Fern. In some ways, this is a rather desolate and dark picture of America, but it doesn't leave you in despair; there's hope and humanity.
9.
My Octopus Teacher
There were quite a few strong documentaries released in 2020, and it was something of a surprise when this one (directed by Pippa Ehrlich and James Reed) captured the Oscar in that category. But easy to see why the Academy's voters fell for it: The photography is stunning—as in Gunda, it's remarkable to see the close-up images of the featured animals—and there's real emotion and philosophy in this story of one man making a connection with a life form that seems to be so distant from human beings on the tree of life.
10.
Sorry We Missed You
Gut-wrenching. Director Ken Loach's film is not easy to watch, but I found its empathetic portrait of a family struggling through difficult economic times to be essential viewing.
Runners-up
I gave 4 out of 5 stars on Letterboxd to each of the movies in this first tier of runners-up. In alphabetical order:
Beanpole, Boys State, City So Real, The Father, Genius Loci (animated short), The Good Lord Bird (TV miniseries), A Love Song for Latasha (short documentary), Ma Rainey's Black Bottom, Minari, Opera (animated short), The Painter and the Thief, Quo Vadis, Aida?, and Seven and a Half
I gave 3½ out of 5 stars to the movies in this second tier of runners-up:
Apples, The Assistant, Bloody Nose, Empty Pockets, Burrow (animated short), Careless Crime, The Cloud in Her Room, Crip Camp: A Disability Revolution, David Byrne's American Utopia, Dear Comrades, Dick Johnson Is Dead, Do Not Split (short documentary), Driveways, The Forty-Year-Old Version, Gretel & Hansel, Hamilton, House of Hummingbird, Hunger Ward (short documentary), Impetigore, Judas and the Black Messiah, Leap of Faith: William Friedkin on The Exorcist, Memory House, The Nest, Never Rarely Sometimes Always, Night of the Kings, Notturno, One Night in Miami…, Palm Springs, Possessor, Rewind, A Shaun the Sheep Movie: Farmageddon, Shirley, Tenet, To the Ends of the Earth, Time, Undine, The Woman Who Ran, Yes-People (animated short), and Zombi Child
As always, these star ratings and rankings are subject to change! I'm sure if I sat down and rewatched all of these movies right now (along with some of the other 2020 movies), I would make some changes in my list.