MULHOLLAND DRIVE
See an INDEX for this series of blog posts.
In this part: Mulholland Drive / Fred and Renee's house from Lost Highway / The walk down from Mulholland Drive / Aunt Ruth's apartment / Pink's Hot Dogs
"I want to know if there was an accident on Mulholland Drive."
David Lynch named his 2001 movie Mulholland Drive after one of the most famous roads in Los Angeles.
"I live near it, and I drive it quite often," he told Filmmaker magazine in 2001. "… So it's a mysterious road. It's rural in many places. It's curvy, it's two lanes, it feels old. It was built long ago, and it hasn't changed too much. And at night, you ride on top of the world. In the daytime you ride on top of the world too, but it's mysterious, and there's a hair of fear because it goes into remote areas. You feel the history of Hollywood in that road."
When the Hollywood Hills Improvement Association, "a body composed of a large number of prominent property owners," proposed the plan for Mulholland Drive in 1922,1 the Los Angeles Times remarked: "The idea has enormous possibilities as a scenic road, since it would command views of ocean, city, mountains and desert without peer in the world."2
And when the road opened to cars on December 26, 1924,3 it created the possibility of building houses high up in the Hollywood Hills, transforming a wild and mountainous landscape into pricey real estate.
The road is named after the man who'd envisioned it: William Mulholland, an Irish immigrant who started working as a ditch digger before rising to become the Los Angeles city engineer and Water Bureau chief. Mulholland (who inspired the Hollis Mulwray character in the 1974 film Chinatown) had overseen the construction of the highly controversial aqueduct carrying water from the Owens Valley to Los Angeles.
"Years ago, in his walks over these hills, Mr. Mulholland saw the possibilities of such a road, and advocated it among his friends," the Los Angeles Times reported. Remarkably, Mulholland Drive was named after him while he was still serving in office. He'd reportedly suggested naming it after some famous historical figure, but Mulholland's associates insisted on honoring him.
The Times agreed, saying that the road should be named after "the man whose engineering skill brought to Los Angeles the water supply which has made the Los Angeles of today possible."2
Mulholland's career ended in calamity and disgrace, when the St. Francis Dam burst open on March 12, 1928—just over 12 hours after Mulholland and an assistant had inspected the dam and declared it was safe. The resulting flood killed more than 400 people.
I didn't take many photographs of Mulholland Drive during my visit—because I was too busy driving on it. The scenery is breathtaking all along this winding road. It feels like it's high above the City of Angels, and yet, it is actually a part of it.
"I think because of the views, Mulholland gives you a semi-religious feeling of being up there and in control," David Thomson wrote in the 1990s. "It is where Satan would take you if he were to offer you the city."4
Sweeping around all of those curves, I gripped the steering wheel of my rental car and kept my foot poised to break at any second. Mulholland Drive demands that you stay alert at all times, even as the mountains and mansions tug at your attention, pulling your eyes away from the pavement. It's no surprise that at least one spot on Mulholland Drive is known as a "dead man's curve."
Photographer Jason Knight has documented a car crash graveyard below Mulholland Drive near Laurel Canyon.
In director Lee Tamahori's 1996 neo-noir movie Mulholland Falls, brute cops throw a mob-connected man down a steep hill next to Mulholland Drive, calling the spot "Mulholland Falls."
The road and its dangers also loom in the background of Steven Soderbergh's 1996 film The Limey. "Those streets up them hills, you gotta' be careful," Luis Guzmán's character Eduardo Roel says. "Gotta keep your eyes on the ball. Two o'clock in the morning, it's dark, your mind's agitated. You're driving too fast. Those curves don't kid around. Could've happened to anybody."
"What are you doing? We don't stop here."
David Lynch told interviewer Chris Rodley that his movie sprang out of a simple suggestion: "My former agent Tony Krantz said, 'Why don't you do a new television show called Mulholland Dr.*?' If he hadn't said that, I would never have done anything with it, so that was a good thing. … It was just those words. 'Mulholland Drive.' When you say some words, pictures form, and in this case, what formed was what you see at the beginning of the film—a sign at night, headlights on the sign, and a trip up a road. This makes me dream, and these images are like magnets, and they pull other ideas to them."5
* The film's title is often styled as Mulholland Dr.
In the movie's opening minutes, two cars come screaming down the two-lane highway at nighttime—racing side by side, with young people standing up through the sunroofs of the vehicles, yelling and waving their arms. That would be reckless anywhere, of course, but now that I've actually driven on Mulholland Drive, it's almost unimaginable that anyone would attempt such a stunt on this road.
Those cars crash into a limousine stopped along the road. The passenger in the limo (Laura Elena Harring), whom we'll come to know as "Rita," walks away from the crash, heading downhill through the brush along Mulholland Drive—drawn toward the lights of Los Angeles. It's not clear precisely where on Mulholland Drive this collision is supposed to happen.
The movie returns to the same road in its final scenes, when the characters have changed personas. This time, Diane Selwyn (Naomi Watts) is riding in the limo. Her destination is the home of movie director Adam Kesher (Justin Theroux). We've heard the address:
6980 Mulholland Drive.
Once again, the limo makes an unexpected stop along Mulholland Drive—but this time, there's no crash. Harring, now playing the character Camilla Rhodes, takes Diane up a hill to Kesher's house.
In reality, there is no house at 6980 Mulholland Drive. Does the crash in the first part of the film happen at or near this address mentioned in the last part of the film? Geography suggests that it's at least somewhere in that vicinity. As Rita walks downhill, she ends up on streets that are south-southwest of 6980 Mulholland Drive.
It's worth noting that the nighttime vista Rita sees in the movie doesn't seem to quite match what she would see at 6980 Mulholland Drive. (And this isn't where Lynch filmed the scenes at Adam Kesher's house isn't here—that location is reportedly in the Studio City neighborhood in the San Fernando Valley.)
If a house did exist at 6980 Mulholland Drive, it would be right next to the parking lot for the Jerome C. Daniel Overlook, where I stopped to take in views of the Hollywood Sign, the Hollywood Bowl, and the city of Los Angeles spread out below the Hollywood Hills.
I did not visit Mulholland Drive at nighttime; the closest approximation I have for the nighttime views in Lynch's film are these photos looking out at Los Angeles from the part of Griffith Park near the Griffith Observatory.
FRED AND RENEE'S HOUSE IN LOST HIGHWAY
"Dick Laurent is dead."
There's something curious about the 6980 Mulholland Drive location.
If Rita walked a few hundred feet downhill from this spot, she'd end up in the backyard of a house from an earlier Lynch movie, 1997's Lost Highway: the modernist home where jazz musician Fred Madison (Bill Pullman) lives with his wife, Renee (Patricia Arquette).
In the film, the house's address is identified as "7035 Hollis, near the observatory." There is, in fact, no such address in L.A. (Is Hollis an allusion to the Chinatown character Hollis Mulwray, a.k.a. William Mulholland?)
The house where Lynch filmed the exterior shots of the house and at least some interior scenes is actually on Senalda Road. According to Zillow, it was built in 1957. Here's how it was described in a 1959 real estate ad in the Los Angeles Times:6
I drove past this private home a couple of times and snapped a few quick photos without lingering. Perhaps the house seemed spooky merely because of the way I'd seen it used in Lost Highway, but I sensed something forbidding about the building's fortress-like façade facing that narrow, curving street in the Hollywood Hills neighborhood.
In Los Angeles Plays Itself, Thom Andersen observes:
"One of the glories of Los Angeles is its modernist residential architecture, but Hollywood movies have almost systematically denigrated this heritage by casting many of these houses as the residences of movie villains."
THE WALK DOWN FROM MULHOLLAND DRIVE
In Mulholland Drive, Rita is next seen walking on the 7400 block of West Franklin Avenue in the Hollywood Hills West neighborhood—about a mile south of Mulholland Drive. (As it happens, this is near the former home of Joan Didion, 7406 Franklin Avenue.)
Rita continues walking, heading about half a mile southeast, to the 7200 West Sunset Boulevard in the Hollywood neighborhood. Finally, she falls asleep in some hedges outside an apartment building we later hear identified as 1612 Havenhurst. There's actually no such address: Havenhurst Drive doesn't extend north beyond Sunset Boulevard, or 1500 North.
That's about a mile west of the previous spot where we've seen Rita walking, meaning that her entire trek down from Mulholland Drive was something like two and a half miles—a rather long walk for a dazed and injured woman wearing high heels.
Of course, Lynch may not have intended viewers to study the geography of Rita's walk. And, depending on how you interpret the movie, all of this might be a dream anyway.
If, in fact, the spot where Rita falls asleep is supposed to be near Havenhurst and Sunset Boulevard, that would place it in the suburb of West Hollywood.
Looming northwest of the intersection is the seven-story Chateau Marmont hotel, built in 1929, where Greta Garbo, Marilyn Monroe, John Wayne, and Lindsay Lohan stayed; John Belushi and Helmut Newton died; Robert Mitchum was arrested; Jim Morrison jumped from a fourth-floor window; and Dorothy Parker, Hunter S. Thompson, F. Scott Fitzgerald, and Jay McInerney wrote.
Half a block south on Havenhurst, a dotted line is painted across the street, marking the boundary between the cities of Los Angeles and West Hollywood.
On the same block, the Mi Casa apartments were filmed in Chinatown—appearing as the El Macondo Apartments, where detective Jake Gittes (Jack Nicholson) takes clandestine photos of Hollis Mulwray (Darrell Zwerling) in a romantic rendezvous.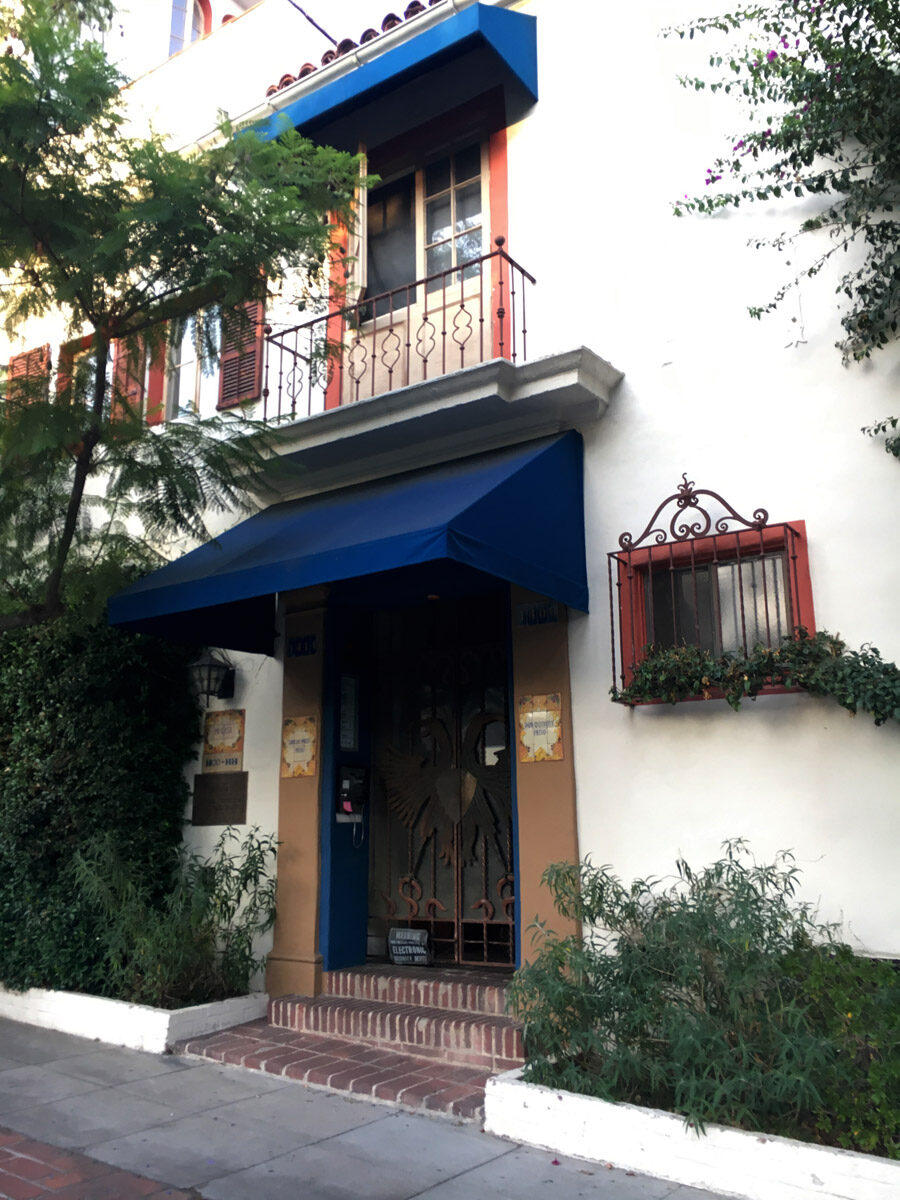 AUNT RUTH'S APARTMENT
"Everybody in this building's pretty much OK with me—or they wouldn't be here."
When she awakens, Rita hides in an apartment, as a tenant named Aunt Ruth (Maya Bond) departs on a trip. Later, Aunt Ruth's niece Betty Elms (Naomi Watts) arrives. Lynch filmed these exterior scenes at the Il Borghese Apartments, a couple of miles to the southeast—at 450 North Sycamore Avenue in the Hancock Park neighborhood.
Built in 1929 and designed by Charles Gault, the Mediterranean-style building was on the cover of the book Courtyard Housing in Los Angeles, which called it "one of the most elegant of the courts."
Curbed Los Angeles reported: "According to a tipster: 'Shirley Temple lived here. Errol Flynn partied here, Ann-Margaret visited her publicist here, Lionel Richie found his current wife here.' And we can't confirm a damn bit of it…"
I photographed the exterior of the building, with its distinctive arched gates. I could hear the trickling of the fountain inside the courtyard, a sound that appears a few times in Mulholland Drive.
For photos of the courtyard, check out this blog post by Jonathan Myles-Lea, who notes: "Apparently a large olive tree existed on the lot where [Il] Borghese was to be built and instead of uprooting the tree, Gault centred the building's courtyard around it. The 100 year old tree is still there today." And for a look inside one of the units, see this story at the Apartment Therapy website.
PINK'S HOT DOGS
"Any new girls on the street lately? … A brunette? Maybe a little beat up? You'll keep your eyes open for me won't, you baby?"
Another Mulholland Drive location is just three blocks from the Il Borghese apartments: Pink's Hot Dogs at 709 North La Brea Avenue. Billing itself as "A Hollywood Legend Since 1939," the popular restaurant is where Lynch filmed the hitman Joe (Mark Pellegrino) talking with a couple of his associates along the building's north wall.
Paul Pink and his wife, Betty, started selling 10-cent wieners from a cart at the same corner in 1939, before constructing the restaurant in 1946.7 It's one of those oddly configured commercial buildings that seem cobbled together; the hot dog stand shares space with a lamp store. In Los Angeles Plays Itself, Thom Andersen describes Pink's as one of those "a few Los Angeles landmarks that almost always play themselves."
Pink's serves a delicious and decadent item dubbed the Mulholland Drive Dog: a nine-inch "stretch dog," grilled onions, grilled mushrooms, nacho cheese, and bacon. Inside, the many photos of celebrities and customers on the walls include an autographed picture of Lynch. Above his name, he wrote:
"GO PINKS"
See an INDEX for this series of blog posts.
In this part: Mulholland Drive / Fred and Renee's house from Lost Highway / The walk down from Mulholland Drive / Aunt Ruth's apartment / Pink's Hot Dogs
NOTES
1 "Scenic Boulevard From Hollywood to Sea Over Crest of Santa Monica Mountains," Los Angeles Times, December 24, 1922.
2 "Fact and Comment," Los Angeles Times, December 24, 1922.
3 "High Way Fete to Be Free," Los Angeles Times, Dec. 26, 1924.
4 David Thomson, Beneath Mulholland: Thoughts on Hollywood and Its Ghosts (New York: Knopf, 1998); quoted in Thomas Curwen, "'If you ever want to fly…'," Los Angeles Times, June 21, 2006.
David Lynch, ed. Chris Rodley, Lynch on Lynch (New York: Farrar Straus & Giroux, 2005 edition), excerpted in Criterion Collection booklet for Mulholland Drive, 25-26.
6 Classified advertisement, Los Angeles Times, March 15, 1959.
7 Larry Gordon, "Chili Dog Champ Paul Pink Dies at Age 87," Los Angeles Times, March 3, 1996.
Follow links in the text for additional sources.
Photos by Robert Loerzel except where noted otherwise.