This review by Robert Loerzel originally appeared in Signal to Noise magazine's summer 2010 issue.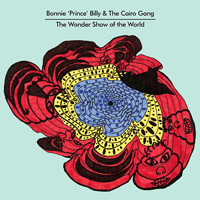 Bonnie 'Prince' Billy & the Cairo Gang
The Wonder Show of the World
Singer-songwriter Will Oldham is credited to Bonnie 'Prince' Billy & the Cairo Gang. Of course, Oldham settled on the Bonnie Billy moniker some years back, and while the Cairo Gang sounds like the name of a band, it's actually just Emmett Kelly, who's been a regular member of Oldham's backup band for the past few years. Kelly plays guitar in a loose, expressive style, and when he performs with Oldham in concert, it looks as if he's making up a lot of what he does on the spot, taking cues from Oldham's own performance. That sort of musical communication makes Kelly an ideal partner for Oldham on these studio recordings. Unlike 2009's Beware, which featured a full band adding colorful and sometimes strange flourishes to Oldham's songs, this one is spare, with just a touch of understated percussion here and there. It's yet another solid collection of idiosyncratic, personal songs from this prolific songwriter. Oldham has never sung better, gently catching all the subtle nuances of his melodies. His lyrics read like poetry on the page, but somehow even his archaic turns of phrase feel natural when he sings them. With a little more gloss, "That's What Our Love Is" could pass for an early-'70s folk-rock ballad by Crosby, Stills & Nash or maybe even a soft-rock hit, but Oldham's lyrics begin with the ominous line: "Don't go to bed if you know that something's waiting to grab you in the night and throttle hope from your heart." And then he finishes the song by crooning, "I believe these are end times. Wouldn't it be best to be together then? The smell of your box on my moustache or a crossword on our mind." Oldham dares to let his mind take him to places other songwriters avoid. On the last track, the elegiac "Kids," he sings from the perspective of an aging man who's afraid of moving, fearful of losing his ability to sing. If anything, Oldham sounds more fearless than ever.