This review by Robert Loerzel originally appeared in Signal to Noise magazine's fall 2008 issue.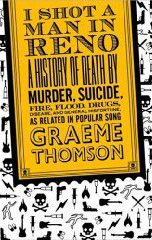 I Shot a Man in Reno
By Graeme Thomson
(Continuum)
A few years ago, the Mekons' Jon Langford told me about his fascination with old-time folk and country songs about death. He lamented the dearth of death songs on today's charts. "And now pop music's essentially sanitized to the point where there's no drinking, cheating or killing songs on country radio—although the movies are full of fantasy, death and violence," he said. "A lot of those folk songs were talking about real events. Maybe society is censoring itself. The mainstream cannot deal with this material anymore."
After that interview, it occurred to me that Langford did not have it quite right. Maybe mainstream Nashville has shoved the murder ballad into the closet, but gangsta rap overflows with violence. And as Graeme Thomson proves with his book, I Shot a Man in Reno (subtitled "A History of Death by Murder, Suicide, Fire, Flood, Drugs, Disease and General Misadventure"), the Grim Reaper is lurking in just about every genre of popular music. Over the course of this thoughtful essay, Thomson discusses hundreds of death songs. The author of previous books on Elvis Costello and Willie Nelson, here he carefully delineates all the varieties of musical death, from old-fashioned murder ballads to the car-crash sagas of the '60s and the mortality-obsessed music of heavy-metal and emo bands.
Thomson is a surefooted guide through this musical graveyard. His writing is never dry or academic, but he smartly puts each song into its sociological and psychological context. It's fascinating to see how concepts of death changed over the decades, as Thompson points out trends such as the explosion of death songs during the 1960s psychedelic era.
It would have been nice if Thomson had lingered longer over some of the significant songs he writes about, rather than flitting so quickly from one tune to another. And while this book is largely a work of interpretation rather than history or journalism, it would benefit from more of the stories behind the songs. Thomson does make excellent use of quotes from some A-list songwriters; he interviewed Mick Jagger, Paul McCartney, Will Oldham and Nick Cave, and he draws on other sources for remarks from other musicians.
At first, it may seem puzzling that songs on this grim topic have become hits and even popular standards, but Thomson persuasively shows that death very much belongs in pop music. If music is about the human experience, death must be in there, along with everything else. One of Thomson's sources, Richard Thompson, puts it best in the book's final chapter, saying, "The obvious thing to say is that a song about death is a song about life."