This review by Robert Loerzel originally appeared in Pioneer Press on March 9, 2006.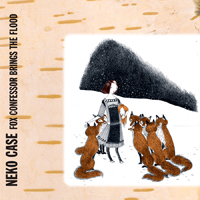 Neko Case
Fox Confessor Brings the Flood
****
This siren tops her previous records — as excellent as they were — with a haunting suite of gothic folk songs. The calmly macabre cover art sets the mood: A girl and some foxes handling disembodied human heads. Neko Case's poeotic lyrics evoke similarly mysterious scenes, and the music sounds like tile dusty landscapes of the Southwest, where Case moved after leaving Chicago. The gong structures follow their own strange logic — the chorus of "That Teenage Feeling" seems to emerge suddenly in the middle of a verse, and then it never reappears — so repeat listens are required to get the hang of what Case is up to.
The essence of the music is similar to the folk/country Case recorded on her 2002 album "Blacklisted," but this time, the songs have unusual sonic textures around their edges. The Sadies and Calexico back up Case on some tracks, and even Garth Hudson of The Band shows up, adding a beautiful piano coda to "Star Witness." Case herself plays a mesmerizing dulcimer solo on the closing track, "The Needle Has Landed." The gospel influence that first showed up on Case's live album "The Tigers Have Spoken" surfaces again on an updated traditional song, "John Saw That Number."
At the center of it all is Case's remarkable voice. She knows how to belt out strong notes with natural ease, and she also smoothly glides up to angelic highs. "Fox Confessor Brings the Flood" is her best album yet, and one of this year's best, too.