How I found that 1933 photo of the Green Mill fire
So, here it is … my first email newsletter. I'm still trying to figure out exactly what to include in these missives, but you can expect things like:


— Pictures of birds and animals


— Comments on movies, books, and music


— Random thoughts on journalism, grammar, art, nature, etc.


I suppose that isn't focused enough. Shouldn't I choose one topic? Maybe, but I'm interested in a lot of different stuff.


Here's one noteworthy thing I found: a Chicago Daily News photo from 1933, showing the Green Mill building engulfed in black smoke.
Chicago History Museum Photo DN-A-0821.


I hadn't ever heard abut this fire—until I was searching through old newspapers online. I use a few different search engines, including the Newspapers.com subscription service. Another useful one is Genealogybank.com, which includes a searchable digital archive of the Chicago Daily News.


When I was looking for old stories about the Green Mill, I came across a front-page story in the

April 26, 1933, Daily News about this blaze, which reportedly caused extensive damage to the building.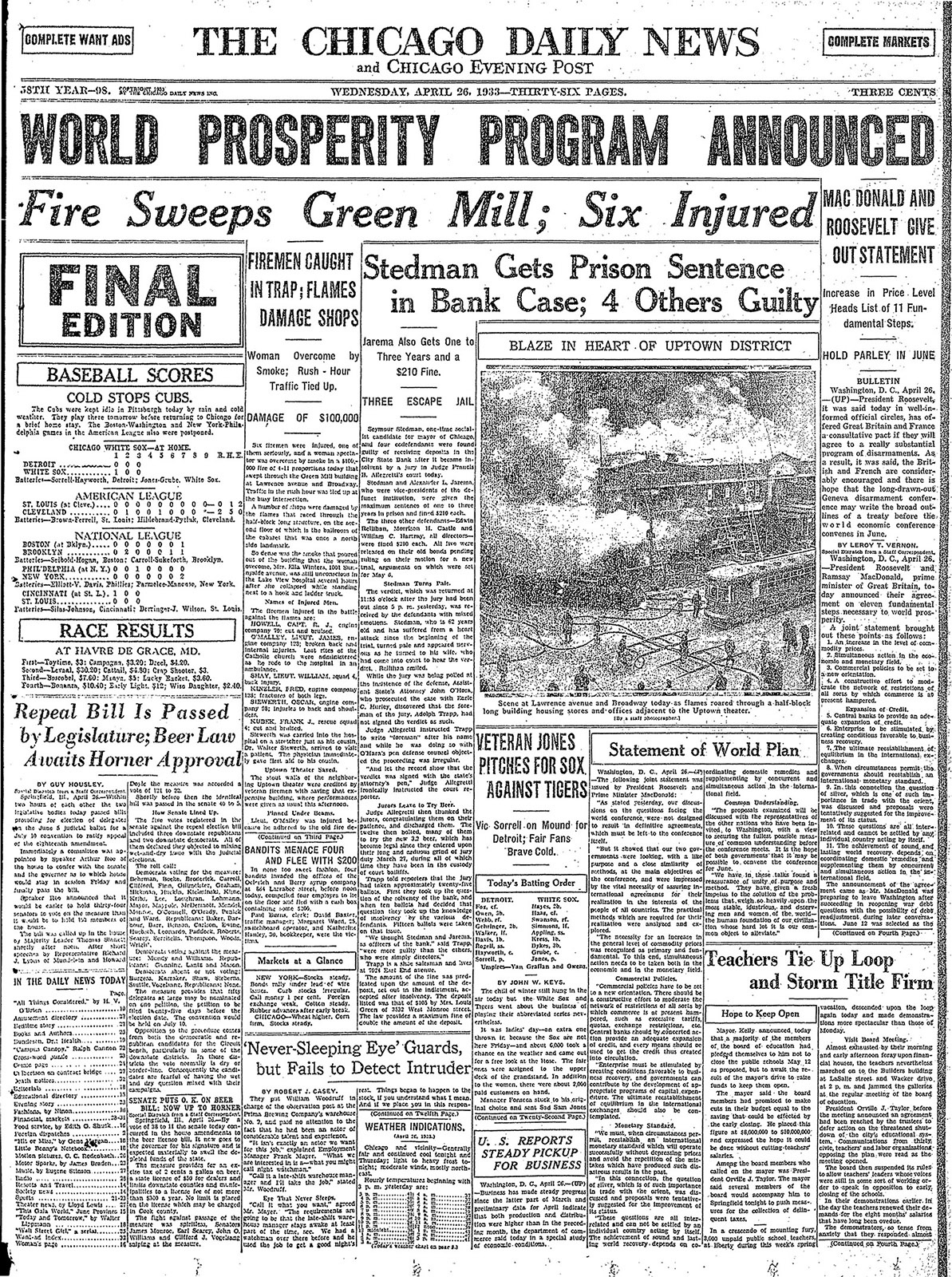 Knowing that the Chicago History Museum has an extensive collection of old photos from the Daily News, I searched the museum's website for this photo. Nothing came up.


So I emailed Ellen​​ Keith, the museum research center's director of research and access (who also does a great job of tweeting at @ChiCollections), and asked her if the museum might have some photos that weren't scanned.


She said: "We have a card index to the glass negatives for the Chicago Daily News. This is just on the edge of what was digitized (I've heard up to both 1932 and 1933). I haven't used the card index for a while but will look at it this week. The headline, caption, and date help!"


As it turned out, the museum did have some glass negatives from April 26, 1933. Ellen found them, and let me take a look at them on a light table at the research center. These are large negatives, several inches across, with a wonderful level of detail in the images. (By the way, the research center is open to the public. Anyone can make an appointment to visit and see materials like this.)


I paid $50 to the museum's Rights and Reproduction staff to scan this photo and send me a high-resolution image to download. That fee includes the license to post the images on a personal website. (There are higher fees for other uses, such as publishing the photo in a book.)


Of course, now that I've posted the photo—and a version is posted on the museum's website—it will be easy for other people to download or copy the image and circulate it. That's almost inevitable, but I encourage people to at least give credit to photo sources whenever they can.


Former Chicago Tribune editor Mark Jacob said: "Wow — nice picture. Do you have any idea how many unscanned glass plates they have? I co-authored a book with Richard Cahan about Chicago Daily News glass plates and must confess that I didn't know that the history museum had any significant collection of unscanned ones."


ca. 243 negatives : glass ; 8 x 10 in.
ca. 17,731 negatives : glass ; 5 x 7 in.
ca. 65,000 negatives : glass ; 4 x 5 in.
7,767 negatives : nitrate ; 8 x 10 in. and smaller.
1 negative : b&w ; 8 x 10 in.
ca. 200,000 negatives : b&w ; 4 x 5 in. or smaller.
ca. 10,500 negatives : b&w ; 35 mm.


Out of approximately 83,000 glass negatives, some 53,000 have been digitized, Ellen said.


Plus, there are more than 200,000 negatives in other formats. I don't know how many of those have been scanned. But it's safe to say there's a ton of old Chicago photographs waiting to be discovered.


A few people noticed that the photo shows firehoses running underneath the rails for the streetcar in the middle of Broadway. Here's a close-up of that.
Chicago map expert Dennis McClendon (@mrdowntownchi) explained: "Notice the firemen have put down steel 'hose jumpers' so streetcar service can continue on Broadway without cutting through the firehoses."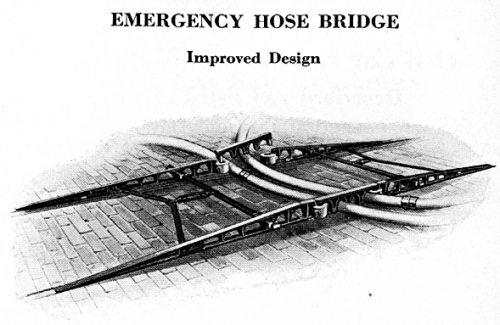 As far as the story of that 1933 fire, I'll be writing more about that soon.


This series of blog posts will be something sort of like a book. (Maybe it will be a book eventually … or I might use parts of it in one or more books. We shall see.)


I'm calling it The Coolest Spot in Chicago: A History of Green Mill Gardens and the Beginnings of Uptown. It starts with this introduction.


That's more than 7,000 words about Pop Morse, the guy who started the roadhouse at the spot where the Green Mill opened later. I'm sure that's probably more detail than a lot of people want to read on this topic, but hey, you can go down this rabbit hole along with me if you're interested.


And what's the myth of 1907? That's the year when the Green Mill supposedly began—or when Pop Morse's roadhouse supposedly opened—according to many sources, including Wikipedia. But as I've found during my research, it's simply not true. The roadhouse was built in 1897 and operating as a saloon by 1898. It's debatable, however, whether this counts as the Green Mill's founding date. I explore that question in my blog.


The next chapter will post soon.


I'll be talking about some of this during an event by Curious City and the Chicago Brewseum on April 12 at Carol's Pub in Uptown. But if you want a ticket … sorry! It's already sold out!


But tickets are available for another event where I'm speaking. I'm one of 20 people talking for two minutes each to answer the question "What did you see?" during 20×2 Chicago at 7 p.m. on Sunday, April 2 at Gman Tavern. Tickets and details are here.


OK, that's it for now. Talk with you again soon.