From the desk of Robert Loerzel
THE COOLEST PLACE IN CHICAGO
Topography, Tombs, and Tolls
I've now posted Chapter 3 of my ongoing history about … well, what exactly is this all about? The early history of what we now call the Uptown neighborhood. But I confess this whole thing is a bit sprawling.


This one is about the ice ages … how the land formed in Chicago … ancient stories told by Native Americans … the swamps that used to cover parts of the North Side … speculation about beavers … how trails evolved into roads … a mid-19th-century panic about cemeteries causing sickness … etc.


It has some cool old maps.
That Four-Star Flag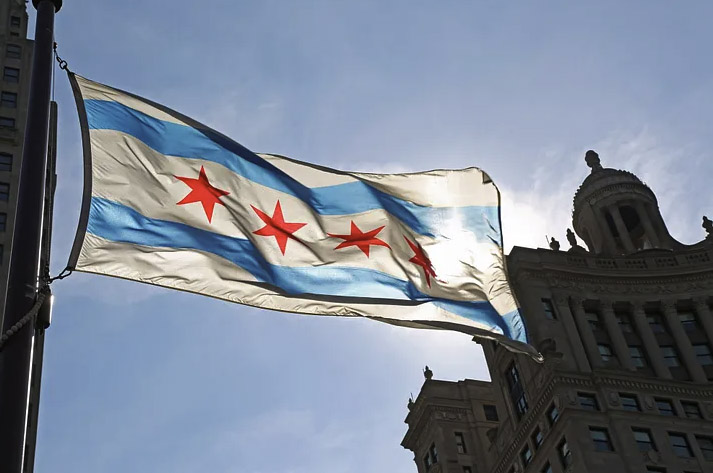 April 4 was Chicago Flag Day. The Chicago City Council designated this day back in 2017, when it was the 100th anniversary of the city flag's adoption.


This book has a short vignette from Chicago's history for each day of the calendar. I've chosen to read one of these little chapters each day of the year, rather than plowing straight through the book, and it's been a delightful addition to my daily routine.


For the April 4 chapter, Steinberg tells a pithy version of the flag's history. I'm always honored to be mentioned in the footnotes of someone else's book—it's good to know something I've researched and written is proving useful to other writers.


When I mentioned this on Twitter, Neil kindly remarked that my article is "the definitive source" on this topic. Thanks, Neil!
Birds Springing Into Chicago
We're in one of the favorite times of the year for birders—spring migration. I've had fun this week watching for birds returning to Chicago after spending the winter in places south of here. Here are a few of the birds I photographed.
From the desk of Robert Loerzel